Excel Compiler, VBA Compiler – software for Excel workbook copy protection
Excel Compiler offers an easy and hassle free workbook copy protection for Microsoft Excel.
You can compile an Excel spreadsheet into an EXE application with securely protected formulas in binary format and protected VBA code.
In order to protect your workbook algorithms from being copied, we have developed our own formula calculation engine. This calculation engine substitutes Excel's original calculation in the compiled EXE, while the Excel itself is used for formatting and reflection of the calculation results. This is the only way to truly protect your workbook algorithms.
With the registration/license management feature you can protect your compiled workbook from being illegally copied from one computer to another through the use of the hardware locking mechanism.
The Excel compiler allows you to add your own splash screen, icon, End User License Agreement (EULA), translate all run-time messages to the language of your customer and do much more…
Try the free trial version of XCell Compiler! It comes complete with all of the features for formula and VBA protection.
 
Download Free Trial
Excel Compiler Main Features
Protect spreadsheet formulas by converting them into binary format. Without this feature, any kind of Excel file copy protection is useless.
Compile Excel workbook (XLS, XLSX, XLSM, XLSB) files into an application (EXE File, which requires Excel to run). You do not need to be a programmer to use the product!
VBA code protection. VBA copy protection blocks access to the VBA project (as it makes the VBA project unviewable), and hides the VBA code, thereby disabling the VBA debug mode. By applying the VBA code modification options, such as 'Obfuscation' and 'Literals Removing',  you will get modified VBA code, which will not work outside of the compiled application.
Compile workbook into an EXE that is compatible with both 32 bit and 64 bit Excel versions.
All versions from Microsoft Excel 2007 SP3 and higher (2010, 2013, 2016, 2019) are supported.  Microsoft Excel as a part of Office 365 is also supported.
Customize or localize (translate the language to your customer's native language) the compiled workbook messages.
Run a compiled workbook without a macro security alert.
Create a registration key/license based application, preventing it from being illegally copied from one computer to another.
Workbook copy protection with hardware locking! This allows your protected workbook to work only on the targeted computer.
Royalty-free distribution of your compiled EXE, which doesn't require any pre-installed run-time libraries.
Workbook copy protection with a hardware dongle (USB stick).
The original Excel workbook remains unchanged after compilation.
Restrict the time period of the usage for your protected workbook.
License expiration warning. Add your own customized expiration message.
Add your own End User License Agreement (EULA) . The compiled Excel workbook will not be started until the end user accepts the EULA.
Save changed data directly into the compiled EXE file or into secured external data storage.
Create a Trial/Demo version of your protected workbook with an adjustable trial period and a custom "nag" window.
Hide Microsoft Excel on start.
Create an installer package for your protected Excel spreadsheet by using our freeware product – DoneEx Installer Maker.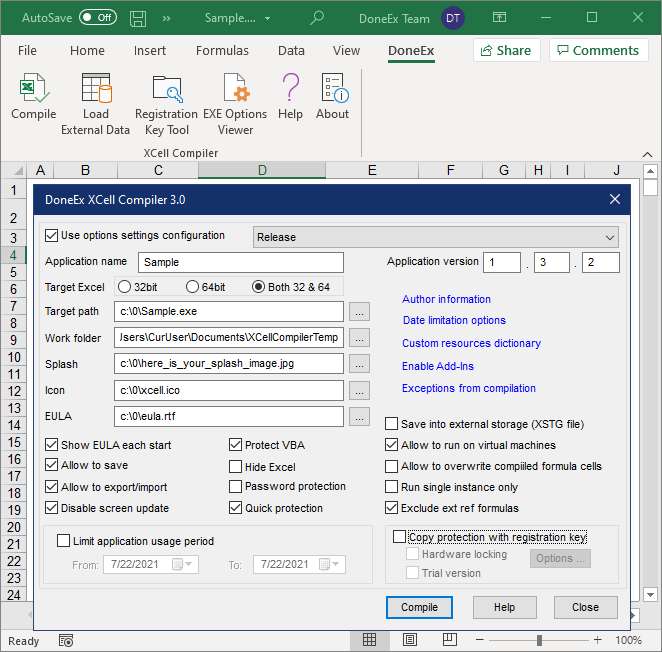 DoneEx VbaCompiler for Excel
VbaCompiler for Excel is software for VBA code protection. It protects your VBA code by converting it to C-language code and compiling this C code into a native Windows DLL file. This is the strongest and the most unbreakable VBA code protection. Nobody can view, trace or copy your VBA code after compilation.

Download VbaCompiler for Excel
Main benefits of the VBA Compiler usage
The strongest, unbreakable VBA code protection.
VBA code performance improvement after compilation for some VBA algorithms.
It is impossible trace, debug, or copy the compiled VBA code.
You do not need to have any knowledge of any other programming languages except VBA.
Result of the compilation is a workbook or Excel add-in file with the same file format and file extension as your original file plus a DLL file with the compiled VBA code.
Your original file remains unchanged because the VBA compiler works with a copy of the workbook.
The whole content of the workbook or of the add-in VBA project is compiled without exceptions. You do not need to select which piece of the code should be compiled.
The VBA code compilation is processed automatically without any programmer participation.
Compile for both 32 bit and 64 bit versions of Excel.
Create copy protected workbooks or Excel add-ins which are activated by registration keys, which only you will be able to generate.
Create trial versions of workbooks or Excel add-ins which will stop to work after the trial period expires.