How to compile Excel workbook
Once you install the XCell Compiler on your PC do the following steps.
Go to Start menu
Click  Windows Start button >> Programs >> DoneEx >> XCell Compiler >> Click to Start.
The Sample workbook will be opened in your Excel version.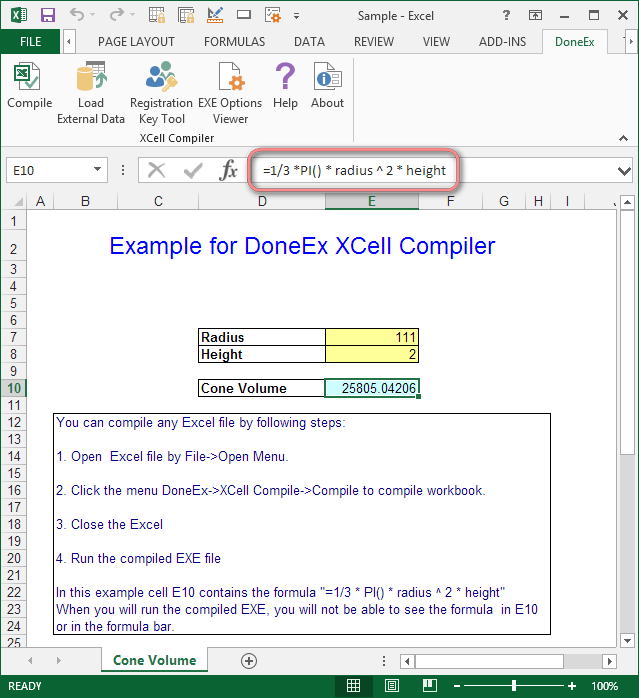 Please have a look on content of cell E10, you can see the formula.
Select DoneEx >> Excel Compiler >> Compile, from the Excel menu bar.The following dialog form will appear.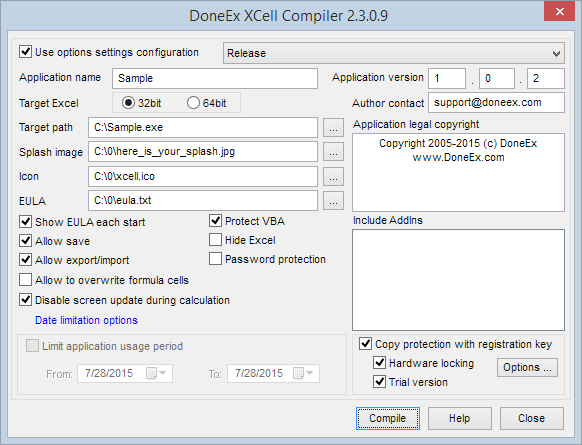 Lets enter the application name as 'Sample'
Put the version number 1 0 2 as shown in the above image
Enter the copyright text in the copyright box.
Click the browse button […] to choose the target path. Select C drive and give the file name as 'sample.exe'.
Click the browse button […] for screen image. Select the image.
Click the compile button in the XCell Compiler screen. Once the compilation completed, the following message will be displayed.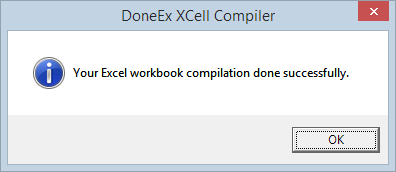 Click OK on the compilation message screen.
Click the close button on the XCell Compiler screen.
Close Excel.
Browse "My Computer". Go to C: drive. To use the compiled file, just double click the compiled file icon (sample.exe file).
The file will be opened in Microsoft Excel environment . If you select the cone volume (E10) cell, you cannot see the formula in the sample exe file.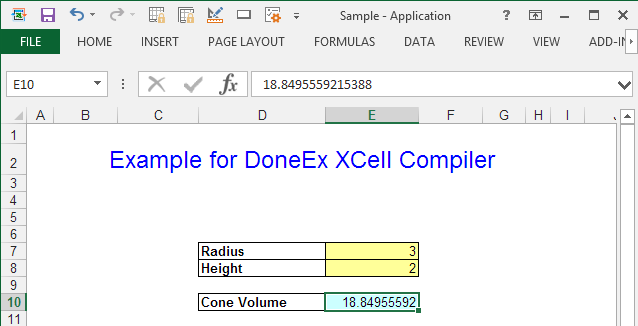 Now change the 'Radius' to 5 and 'Height' to 7 then press enter. The cone volume is calculated but you cannot see the formula. This formula cannot be reached as from grid as from VBA code.
Once the Excel worksheet is compiled, a file in the EXE format will be saved at the specified target path.
The file is secured now; you can send the compiled file to your client in a peace of mind.